MILWAUKEE BREWERS HOSTING WWE NIGHT WITH BEST BOBBLEHEAD EVER OF A WWE CELEBRITY HALL OF FAMER
By
Mike Johnson
on 2021-06-10 14:35:00
The Milwaukee Brewers announced they would be hosting a WWE Night at their 9/25 game against the New York Mets.
Fans who order a special limited edition package for the game will receive a special edition WWE Hall of Famer Bob Euecker Bobblehead with Euecker (who appeared at Wrestlemania 3 and 4) standing inside a wrestling ring, holding a WWE Championship belt: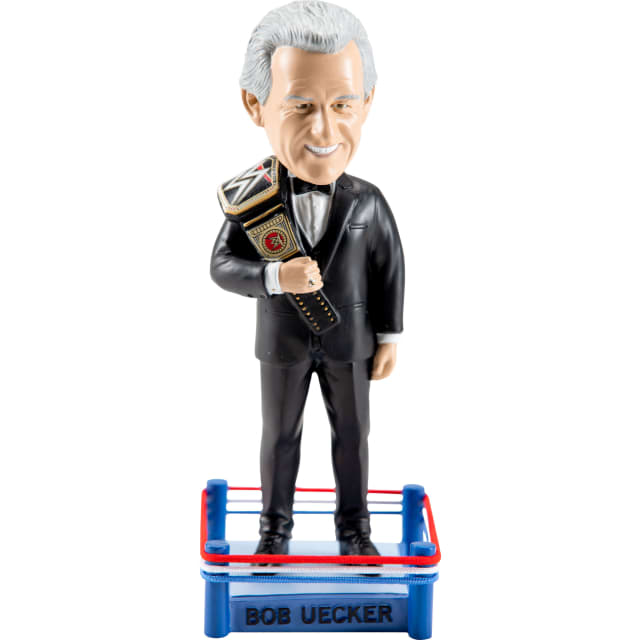 Euecker was inducted into the WWE Hall of Fame in 2010.
For more details, click here.
Below is PWInsider.com's coverage of Eucker's WWE Hall of Fame induction:
Jerry Lawler talked about celebrities in wrestling and said the next man is just as important as any of them. He brought out Dick Ebersol.

Ebersol said 25 years ago tonight he was producing one of his last Saturday Night Live episodes and had Hulk Hogan and Mr. T doing a sketch on the show. He said Hogan got so carried away, he laughed and couldn't read his cue cards.

That was the night before Wrestlemania 1 and it led to the launch of Saturday Night's Main Event. He said that he's never had more fun than he did when working to produce WWE programming for NBC.

Ebersol said that Bob Uecker has had the most extraordinary career of any sports personality. He said Bob had a ten year career, only batted .200 and yet is still in the Cooperstown Hall of Fame.

Ebersol introduced a video on Uecker.
Ebersol told the story that brought Bob Uecker to Wrestlemania 3. They had gone to Detroit six weeks before the PPV to survey the site and figure out how to get everyone into the building.

He said Vince McMahon was trying to get Uecker, who didn't "get it" to appear. Ebersol said they would go visit Uecker to convince him. Ebersol sent for Jesse Ventura to come help.

They arrived and called Uecker and told him they were at his hotel. They needed two hours and a "lot of beer" to get Uecker to agree. He said Uecker had the time of his life but didn't know it was coming when Andre the Giant put his arms around him and he was scared to death.

He introduced Bob Uecker.

Bob Uecker said he had a lot to say but "Inoki stole his speech." Uecker said he wasn't always a great player and his father didn't know a lot about sports but wanted him to do everything the other kids did. His dad got him a football and they didn't know how to throw it, so they kicked it around until a nice neighbor filled it with air for him and "What a difference that made!"

Uecker said that he was interested in wrestling when he was 75 or 80 pounds. He told a story about being so poor his mother made him an athletic supporter from a flour sack "and the flour would fall out."

He told some funny baseball stories and showed off his Hall of Fame ring. He joked that "everyone else got a diamond," but he got a zirconium. He talked about dreaming of a world championship ring... and his was tossed into the field and he had to find it during the fifth inning.

Uecker said that he met Dick Ebersol years ago and mentioned some of the shows he was involved in. When he was called to do Wrestlemania, he said he initially said no because it was during Spring Training but it turned out to be one of the best things he ever did in his life.

He told a story of Jake Roberts asking him to take a picture with Damian. He asked who Damian was and Jake said, "He's in the bag." Uecker said, "So am I. Pass me another beer."

When they got to Detroit, he got to meet everyone and was having the time of his life. He said he had spent time with Andre the Giant but had no idea it was coming. Uecker said if the camera had stayed on them we'd have seen him on top of Andre with Vince yelling for him to let Andre go because he had a match.

Uecker said when he was a kid, his grandma did wrestlers' laundry and told a story of putting on Dick the Bruiser's tights. He talked about watching Milwaukee wrestling in the Rendezvous Ballroom.

Uecker continued his self deprecating lines and joked a lot. It was hilarious.

Uecker said that all of the things he's had the chance to do in his life, some of the best times he's had were with WWE. He said he was amazed by how jam packed the place is tonight and is amazed by the body punishment the wrestlers put themselves through.

He thanked everyone for their time and laughter.
If you enjoy PWInsider.com you can check out the AD-FREE PWInsider Elite section, which features exclusive audio updates, news, our critically acclaimed podcasts, interviews and more by clicking here!