EARLY CM PUNK CLASSIC FOOTAGE NOW AVAILABLE VIA iPPV VOD, EVOLVE 18 UPDATES AND MORE DGUSA NEWS
By
Mike Johnson
on 2012-11-21 17:35:31
Dragon Gate USA will be launching a new website shortly at www.dgusa.tv.
The promotion is offering the Best of CM Punk Volume 1 and 2 via WWNLive.com. The compilation is made up of matches from Punk while working for FIP, including the infamous Falls Count Anywhere match where he and Homicide brawled into a strip club while the girls were working, which was an awesome scene worth checking out. You can order the Punk iPPV streams for only $2.99 at the graphic below: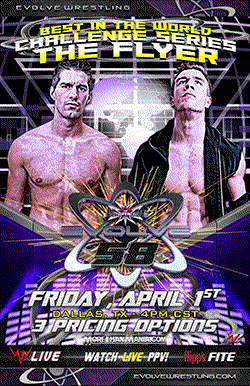 WWNLive.com will be offering the Jeff Peterson Memorial Cup via iPPV next month for the first time.
It appears the EVOLVE 18 main event on 12/8 in Voorhees, NJ will be changed to Johnny Gargano vs. Sami Callihan, which is an awesome main event on paper. There will be a bus trip from NYC to the event. For details, visit www.wrestlingbustrips.com.